Sautéed Baby Spinach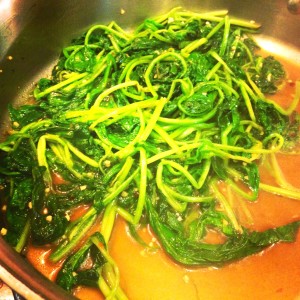 1 large fresh baby spinach bunch from the produce section of the grocery store. (More is better, because it shrinks mightily. Double this recipe for each large bunch you buy.)
1 T olive oil or 2 T vegetable broth
1 tsp crushed red pepper flakes
1 T crushed garlic
1 T soy sauce
1 tsp of sesame oil (go lightly to start!)
This dish uses one of those large fresh baby spinach bundles you can find in the produce section of the grocery store. The thin green and white stems can be eaten when cooked, so you don't need to cut them off. But you can if you want to.
Rinse the spinach in plenty of cold water, and set it to drain in a colander. Heat a large pan over medium high heat and add a tablespoon of oil. Sprinkle in one teaspoon of crushed red pepper. (If you don't want to use oil, you can use a couple of tablespoons of vegetable broth instead. I like it both ways.)
Let the crushed red pepper steep and flavor the oil or broth for about a minute.
Add 1 tablespoon of crushed garlic and then immediately add the spinach. (You want to do this quickly so that the garlic doesn't burn. If it does burn, dump out the oil or broth and start over. Burnt garlic is too strong a flavor for the young spinach.)
After about 2 minutes of sautéing, turn the heat down to medium and add a tablespoon of soy sauce and about a teaspoon of sesame oil. Turn off the heat and let the spinach steep a bit, uncovered. Taste it and adjust the seasoning. Note that the sesame oil is pretty strong stuff, so start light and then lightly add more as needed.