Red Tomato Pie with Creamy Goat Cheese and Basil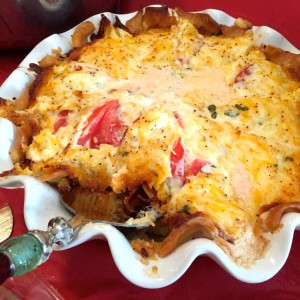 Recipe type:
Cheesy Tomato Appetizer Goodness
One bottom pie crust
Six tomatoes, sliced thin
Salt and Pepper
One package of fresh basil (you'll use about six leaves)
4 oz goat cheese, crumbled
1 cup shredded cheddar cheese
1 cup shredded mozzarella cheese
1 cup mayonnaise (Blue Plate brand is a Southern staple)
2 T tapioca starch
The first step here is very important: you want to firmly bake the bottom crust for the pie. This can be a pretty wet pie, with all of the tomatoes and cheese, so crisping up the bottom crust is a must! (It is ok to use a store bought pie crust, which is what I do here, but if you have the time, a homemade piecrust that is made with an addition of ½ cup cheddar cheese and ½ cup parmesan cheese would be a wonderful addition.)
Put the crust into the bottom of the pan. Now we want to make sure the pie crust doesn't puff up while it bakes. You have some options here. The first option is to use a fork to punch a bunch of holes in the bottom of the crust, which will let out steam as it cooks. The second option is to put some tinfoil over the crust and add some weight to it, by filling it with some dried beans or rice or pie weights and then baking it. Whichever option you use, bake the pie crust according to the directions, or use my default of 350° for about 15 minutes until firm.
While the pie crust cools, slice 6 tomatoes thin. I cut out the core before I do so. Let the pie crust cool, then layer in one full round of slices of tomatoes.
Then, sprinkle on three basil leaves, chiffonaded.
Sprinkle on salt and pepper, and the goat cheese, crumbled.
Cover the goat cheese layer with another ring of sliced tomatoes and another three leaves of basil, chiffonaded. Sprinkle on a little salt and pepper.
Now it's time to make the cheese filling. This goes on top and melts down into the pie to make it, well, super delicious.
Mix 1 cup cheddar cheese and 1 cup mozzarella cheese with 1 cup of mayonnaise and 2 T tapioca starch. If you have any basil left, chiffonade a few leaves into the mixture.
Mix this up well and spread it over the pie. It's easiest to dump the cheese in a bit of a lump over the top and then spread it down to the edges.
Bake it in the oven on the middle rack at 350° for about 30-45 minutes until it is nicely golden brown.
Serve with crackers or crusty bread.
Recipe by
WooPigFoodie
at https://www.woopigfoodie.com/red-tomato-pie-creamy-goat-cheese-basil/