Southern Collard Greens with Bacon and Onions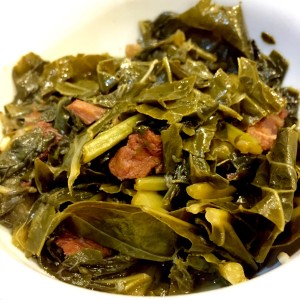 2 bunches collard greens (you can use turnip and/or mustard greens, too!)
5 slices bacon, chopped into ¼ inch slices
1 red onion, chopped or sliced
1 quart broth (vegetable, chicken, beef, pork, etc.)
2 garlic cloves, chopped
1 teaspoon red pepper flakes
Apple cider vinegar, to taste (I add about 2 tablespoons per serving, but start with less than that)
Fill up your sink with cold water and drop in two bunches of collard greens, separating them out from their bunches. Swirl the leaves in the water so that any grit or dirt can drop to the bottom of your sink.
Chop 5 pieces of bacon and add them to a large pot—one large enough to eventually hold all the greens.
Add in one chopped red onion and sauté both until the bacon and onion are nicely browned. You can just sauté in the fat from the bacon itself, or you can go totally overboard and cook them in extra bacon fat.
Add in one quart of broth. I use the Better Than Bouillon to make the broth, since a small jar will make several gallons of very tasty broth. (I've used chicken, beef and vegetable versions, and they are all good. I don't think a particular one makes a difference here.)
Take your greens and roll a stack of them into a tube, like a cigar. Cut across that cigar shape cutting the collard greens into one inch wide ribbons.
Add the collard greens to the pot and stir them into the bacon and onions.
Add in a good pinch of red pepper and two cloves of chopped garlic.
Cook the greens for 45 minutes to an hour, until they are nice and soft.
Once the greens are done, ladle some out into a bowl and add a good splash of cider vinegar. The vinegar really amps up the flavor, so don't skip this step!
Recipe by
WooPigFoodie
at https://www.woopigfoodie.com/southern-collard-greens-bacon-onions/