Split Pea Soup with Bacon, Ham and Caramelized Onions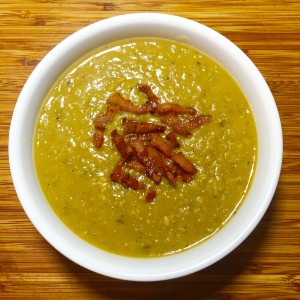 2 pounds split peas (I like the organic ones, which are nominally more expensive)
5 slices bacon, sliced into thin strips
1 red onion chopped
1 ham hock
4 carrots, chopped
4 celery ribs, chopped
salt and pepper to taste
1 Tablespoon bouillon
1 Tablespoon thyme
1-2 bay leaves (1 if large, 2 if small)
1 teaspoon crushed red pepper (if you like it)
I do this as a two-day recipe, or at least a night-before and a day recipe.
You'll start off with soaking your split green peas. Take your largest pot and pour your beans in. As you pour, take a look and see if you find any stones. I've never found any, but that is the standard direction with this.
Once you have them in your pot, cover them with cold water by about 4 inches. The will suck up a ton of water and if you use less, you'll end up with dry beans and no water. So add enough. It's perfectly fine to add more as needed. At some point, they will stop soaking in the water. That takes a few hours for me.
Take a ham hock and score it with x's by slicing the fat on its outside first in one direction, then in the opposite. You don't need to cut very deeply into it, just an ⅛th inch or ¼ inch or so.
Place that ham hock in a small pot of cold water (not your soup pot), covering it with the water. I like to add in a little salt and pepper and a bay leaf, but it isn't truly necessary. I don't think it adds much flavor to the hock, and you don't want to add this water to the pea soup pot.
Bring this to the boil and skim off any foam that accumulates. That is protein escaping from the ham hock, and makes the broth cloudy. I like to clear it away, so that the ham hock is cooking in just clear broth. Cook the ham hock for about 45 minutes, until it is cooked through.
While the ham chock is cooking, slice up 5 pieces of bacon. I freeze my bacon so that it stays as a block, and I slice across that block to give me perfect small bacon slices.
Chop up a red onion into ¼" dice and add the bacon and onion to your largest soup pot. Heat that up over medium heat and caramelize the onions until they are soft and colored. You can take these as caramelized as you like, so as darkly brown as you want.
Next up are your carrots and celery. You want two cups of each, chopped. I buy it frozen, and mine contains onions, too. Throw all of that in the pot and stir it around for about three minutes to soften. Push them to the side and add in your cooked ham hock.
Brown the ham hock on all sides until it has some color. That color is flavor. It's ok if it the bottom of your pot gets some dark color; don't worry about that. It's called fond, and fond is flavor. Once the ham hock is browned, add in your green peas.
Add in salt and pepper and a tablespoon of bouillon. I like to use the Better Than Bouillon brand – whatever flavor I have in the house. Today, it's organic vegetable.
Now add in enough water to cover the ingredients. For mine, it took about 64 oz. of water (8 cups). Use what works for you.
Now add in the thyme and a bay leaf or two. I am using thyme from my garden, which I dried and store in a glass jar. I also like to add in a good pinch of hot pepper flakes. I like the zip that it gives the soup.
Keep the flame at medium high until the soup boils, then turn down to low and cover it. Cook it for one hour. If you leave it uncovered, it will boil off the liquid and leave you with paste. The liquid is absolutely delicious, so don't lose a drop.
Once an hour has gone by, pull out the ham hock, let it cool, and strip or chop away the meat from it, adding it back to the soup. Let it cook about 1 hour more, until the peas lose their crunch. If the soup is too thin, you can boil it down some more. If it is too thick, go ahead and add in some more water and heat it through.
Take a taste. You want to adjust things for salt and pepper. If it doesn't have enough life at this point, then add some salt and pepper, perhaps a ¼ teaspoon of each at a time.
Once the flavor is nicely balanced, now it's time to zizz things. Pull out your immersion blender and blend this up. I like it "rough-smooth" so that it still has some body. But if you like, you can take it all the way to smooth.
Serve it with more bacon on top!
Recipe by
WooPigFoodie
at https://www.woopigfoodie.com/split-pea-soup-with-bacon-ham-and-caramelized-onions/