Instant Pot Vegetarian Lasagna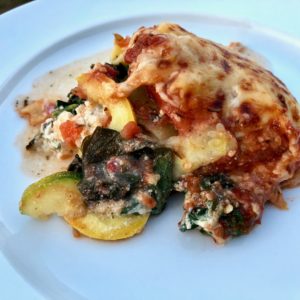 2 small zucchini and 1 small summer squash, sliced into very thin rounds with a knife or mandolin
2 tomatoes, sliced into thin rounds
1 bag or 1 box of frozen chopped spinach, thawed and drained
½ box of "oven ready" "no-boil necessary" lasagna noodles
Fresh basil leaves (if you don't have a garden full, you can find these in the produce section of your grocery store in plastic boxes. You'll want one box.)
1 large jar of your favorite marinara sauce. I use Pepperland Farms out of Louisiana. A 32-ounce jar is just slightly more than I need for two pans of lasagna.
One 16 oz. tub of ricotta cheese. I personally like whole milk ricotta cheese because it tastes like real food to me, but you can use a lower fat version if you like.
2 cups shredded mozzarella cheese. I buy it in the bag.
1 cup of shredded parmesan cheese. Sometimes we buy it in the bag, or the can, but it is really delicious if you use the real deal imported Italian parmesan wedge, which you grate up. That's more expensive and more work, but that's something you can do to dress this up for company. You'll taste the difference.
2 T Italian seasoning. We buy this from either Penzey's or a fancy grocery store in town that has nice spices. You can use any similar seasoning you like. (If it has salt, adjust down the salt below.) If you make your own, you can use thyme, oregano, rosemary, etc. ground up or finely chopped into 2 T.
1 T garlic powder. You can use fresh garlic if you like, and if you do so use 2 cloves, chopped fine.
1 T onion powder. You are welcome to use ¼ cup of finely chopped white or yellow onion. Sweet onion disappears too much in this; you want a little bite.
1 teaspoon salt. I use sea salt, but any will do.
1 teaspoon freshly ground black pepper. Freshly ground makes a difference in life. It's cheap, and explosive in flavor. You deserve it.
1 egg
Drain your spinach in a colander over a bowl. You don't have to press out all the moisture, but get out what you can. The dish will be moist from the sauce, so you don't want things too runny in the end.
Make your cheese mixture. Mix ricotta, 1 cup mozzarella, ½ cup parmesan, the Italian seasoning, garlic powder, onion powder, salt, pepper and egg together in a bowl. Set aside.
Thinly slice the zucchini, summer squash and tomatoes and set aside. I like them cut into rounds, but thin ones. If you prefer a different shape, it's your lasagna. Go for it.
Rinse your basil leaves, but keep them whole. Shake them dry. Remove the stem portions that fall below the leaf itself. You can chop those stems up finely and add them to the cheese mixture if you like. I do like that.
I like to get the Instant Pot warming up, so I put 1½ cups of water in the pot, and turn it to high pressure while I layer the lasagna. I leave the lid open. You'll add a half cup water extra before you put the lasagna in, so don't worry about water loss while you are layering the lasagna. I feel that heating it up cuts the time to get the Instant Pot to pressure.
Place a layer of lasagna noodles in the bottom of your pan. Add about ½ cup of sauce over the noodles. You don't need a lot, because there will be a lot of sauce that flows down to this level.
Add a layer of vegetables: zucchini, summer squash and tomato slices. I layer them around the bottom like pepperoni goes on a pizza, but try for as much coverage as you can.
Add about ¼ of the ricotta cheese mixture to each pan and spread it around a bit. You don't have to be perfect at the spreading.
Add the basil leaves in a flat layer across the top of the cheese. I try to cover it pretty well. In my pan it takes a good handful to cover a layer.
Add in another layer of lasagna noodles to each pan, then sauce, then vegetables, then the remaining ricotta mixture and any remaining basil. Cover that with sauce then the remaining mozzarella cheese and parmesan cheese.
Add an additional ½ cup of water to the Instant Pot.
Place your lasagna pan on a trivet that has handles and carefully lower your uncovered lasagna into the Instant Pot. Cook on high pressure for 25 minutes (27 minutes if using fresh carrots in your vegetable mix), then let it natural release for 12 minutes.
Move an oven rack about 8 inches below your broiler element. Turn your oven's broiler on and let it warm up for 5 minutes. (I start my broiler when the pot shows it has been natural releasing for 7 minutes, so that both are ready when the natural release hits 12 minutes.)
When the 12 minutes are up, hit the quick release for any last steam and then very carefully remove the lasagna pan from the Instant Pot and put it in the oven under the broiler. Keep the oven door open while you brown up the cheese under the broiler. You want to get even speckles of brown, but not char grill the lasagna. That takes me about 4-5 minutes in my oven which runs at 550 degrees, so your time may vary. Just keep a good eye on it. It will pop and bubble a bit to tell you it's browning up. That's normal.
When the cheese is as brown as you like it, pull it out and serve. I cut the top like cutting a pie, and use a solid bottomed spoon to then scoop up a slice. It's never perfect like a slice of layer cake, but each wedge will have plenty of melty cheese top as well as vegetables and sauce.
Recipe by
WooPigFoodie
at https://www.woopigfoodie.com/instant-pot-vegetarian-lasagna/