Beefy Instant Pot Shepherd's Pie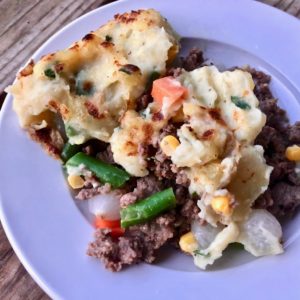 For the mashed potato topping:
5 yellow potatoes sliced into 1 inch chunks
One large handful of chopped chives (one plastic produce department tray)
2 T prepared horseradish
1 ½ teaspoons salt
2 teaspoons pepper
½ stick butter
2 T heavy cream
For the meat:
2 pounds ground beef
½ teaspoon salt
½ teaspoon pepper
2 T fresh oregano, chopped
12 oz. bag frozen pearl onions
12 oz. bag frozen carrot, pea, green bean and corn mix
This recipe makes two 7.5" round Shepherd's Pies.
Take 5 yellow potatoes and slice them into 1 inch chunks. Place your trivet in your Instant Pot and add 1 ½ cups of water. You can use bone broth if you like.
Close the lid, turn the knob to sealing, and press Pressure/High setting the time for 20 minutes. Quick release it once the time is up.
Lift the trivet and put the potatoes in a large bowl. Add the chopped chives, 2 T prepared horseradish, 1 ½ teaspoons salt, 2 teaspoons pepper, ½ stick of butter and 2 T heavy cream. Mash it with your favorite spoon until well mixed. I like it to have some chunk still, for texture in the final pie.
Dump all but ¼ cup of the water/broth out of your Instant Pot and add 2 pounds ground beef. Turn the Instant Pot to sauté.
Season the meat with ½ teaspoon of salt, ½ teaspoon pepper, and 2 T chopped fresh oregano.
When the meat is cooked, use your slotted spoon to put half of the meat in each pan.
Top each pan with one half of a 12 oz. bag of frozen pearl onions.
Then top each pan with half a 12 oz. bag of your favorite mixed vegetables. Here, I'm using a mix of diced carrot, peas, green beans and corn.
Finally, top each pan with half of the mashed potatoes mixture.
Turn on your broiler and when its ready broil your Shepherd's Pies until brown. My broiler goes to 550 degrees, so it takes about 5 minutes to get an even brown.
Recipe by
WooPigFoodie
at https://www.woopigfoodie.com/beefy-instant-pot-shepherds-pie/