Quick and Easy Vegetarian Butternut Squash/Sweet Potato Soup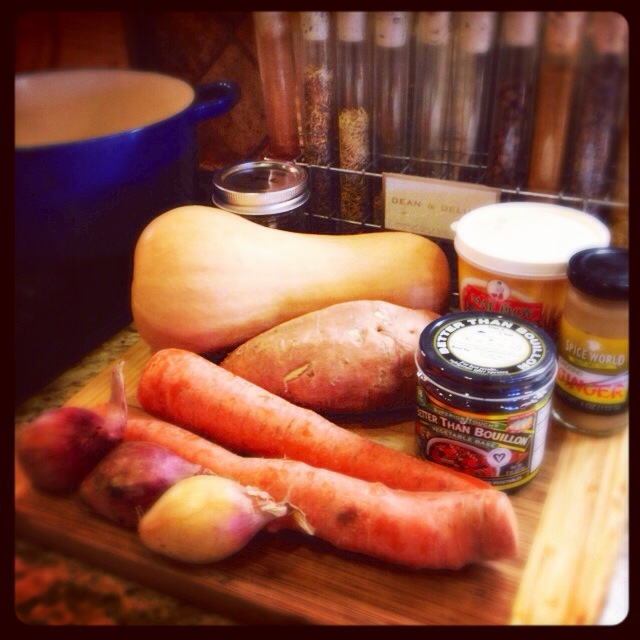 3 shallots chopped (or 1 large onion chopped and 1 garlic clove chopped)
2 T butter
1 T Thai yellow curry paste (I buy the Mae Ploy brand at the asian grocery store in a 14 oz can for about $2-3. You can omit this, or add 1 T of any curry powder, or you could add lemongrass, dried red chili, galangal, cumin, cinnamon, mace, tumeric, cardamom, or other flavors in that range)
1 T vegetable base (vegetarian bullion; I like the Better Than Bouillon brand in glass jars from the grocery store)
1 butternut squash, cubed
1 large sweet potato, chopped
2 large carrots, chopped
1 cup apple cider
1 T fresh grated ginger
32 oz vegetable stock, plus water to cover chopped vegetables
1 T thyme (if you buy it fresh in the plastic trays, use about ⅓ tray, and tie it together with a piece of kitchen string so you can fish it out later. If you're really a pro, tie the string to the handle of the pot.)
Salt and Pepper (white pepper if you have it)
This soup takes about 25 minutes to cook, once everything is chopped
Saute shallots in butter
Add Thai yellow curry paste and vegetable base
Add chopped vegetables, apple cider, vegetable stock, ginger and thyme. Add enough water to cover the chopped vegetables
Bring to a boil, then simmer until vegetables are cooked through. If the thyme was fresh, remove it from the pot and discard. If you use dried, no worries, just go to next step.
Insert immersion blender and blend until everything is nice and smooth. If you don't have an immersion blender, you can blend it in small batches in your blender. It will be hot and will want to escape from the top of the blender, so go slow and blend in small batches!
Add salt and pepper to taste. (You are looking for balance, not "super saltiness" or "hot pepperiness")
If you want to serve this with wine or beer, I like this with a nice New Zealand Sauvignon Blanc from the Marlborough region (anything in the $10-$20 range would be great). Or serve it with a cold wheat beer. Or just serve it however you like!
Recipe by
WooPigFoodie
at https://www.woopigfoodie.com/quick-and-easy-vegetarian-butternut-squash-sweet-potato-soup/