WooPigFoodie's Competition Barbecue Sauce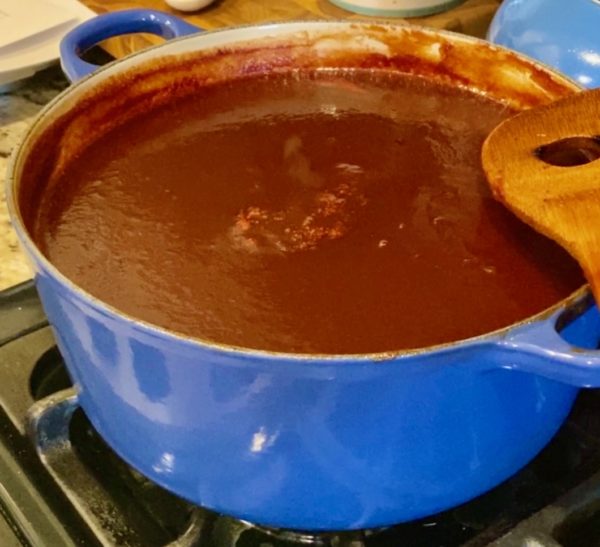 Recipe type:
Barbecue Sauce
32 oz. Tomato Sauce. You can get away with 2 15-oz. cans. This is liquid tomato, not chunks or puree.
32 oz. Ketchup (While we are a Heinz family, your favorite brand is what you want)
two 12 oz. bottles of Chili Sauce. Again, we are a Heinz family.
2 cups Apple Cider Vinegar. I've used store-brand and the fancy ones. I can't tell the difference. It's ok if you can.
2 cups Brown Sugar
1 cup Honey. I use standard clover honey. You can go fancy. It would probably be good with your favorite brand of hot honey, but then omit the hot sauce below.
2 Tablespoons Worcestershire Sauce
2 Tablespoons Soy Sauce
1 cup of your favorite dry rub. Here's mine.
2 Tablespoons hot sauce
In a 5 quart or larger pot, add all ingredients. Bring to a boil, stirring often, and then simmer on medium low for at least 30 minutes.
Keep coming back to stir it to break up the sugar and rub or it will burn on the bottom.
Taste it and adjust the flavors. It's ok if it is a bit vinegary now; that will dissipate as it cooks.
To bottle this for longer-term storage:
Fill clean, new, sterilized glass mason jars within ⅛ inch from the top with hot barbecue sauce and process in that boiling hot water bath for 15 minutes. Process means to boil them for the 15 minutes. Make sure the jars are covered by two inches of boiling water while they process.
Pull the bottles out after 15 minutes of boiling, let them cool and listen for the pops as the jars seal, check the seals and tighten the mason jar twist lids, add a mighty nice label (or do what I do and just write on it with a magic marker), and stock them in your pantry.
Recipe by
WooPigFoodie
at https://www.woopigfoodie.com/woopigfoodies-competition-barbecue-sauce/