Crisp Grilled Salad with Avocado and a Creamy Buttermilk Dressing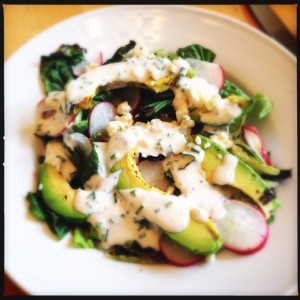 Author:
WooPigFoodie (adapted from a Southern Living recipe created by Brooke Parkhurst and James Briscione)
Recipe type:
Appetizer, Vegetarian
¾ cup fresh buttermilk
¼ cup sour cream
2 T freshly grated parmesan, asiago, or romano cheese (or any favorite hard and salty cheese, including a softer finely chopped queso fresco)
2 T chopped fresh chives
1 T chopped fresh basil
1 T freshly squeezed lemon juice (yes, this matters; it's much more wonderful with fresh)
2 to 3 dashes of Worcestershire sauce (or 2 dashes of fish sauce)
1 to 2 dashes of hot sauce
1 small clove of garlic, minced into a fine paste (small clove, seriously!)
Olive oil or cooking spray
4 romaine hearts, cut in half lengthwise
½ cup thinly sliced radishes
½ cup fresh sweet peas (if still in the shell, cut them crosswise. It's ok if the peas drop out into the salad; both the shells and peas are wonderful in this!)
½ cup mini carrots chopped into small rounds
½ cup crumbled gorgonzola cheese
Croutons, as needed for extra crunch and texture (this is important with creamy salad dressings, because they can tend to weigh down the salad)
Salt and pepper
Whisk together the first nine ingredients in a small bowl (or shake together in a pint sized mason jar—my favorite method).
Let the dressing sit in the refrigerator while you grill the salad, and make sure to give it a really nice shake before you use it. (This is where a mason jar is especially helpful—they seal well and help avoid messes when shaking!)
Now we need to set up our grill. You will want a two-zone setup. This means that you want one half of your grill to remain cool, and the other half hot. With a gas grill this is especially simple: just turn on half of your available burners to medium-high heat. With a charcoal grill, only put one-third to one-half of a load of charcoal on one-half of the lower grate, leaving the other half completely empty. If you are doing this inside in a grill pan over a single burner, just go ahead and heat it up to medium-high heat.
Use your grill scraper to clean off the surface of your grill. I like to do this while the grill is hot, but you may want to do this before you turn it on. Whatever you choose, you want the surface to be free of whatever it was that you cooked the last time!
Cut two romaine lettuce heads in half, lengthwise. Cover the cut in a light coating of olive oil by either using a paper towel dipped in olive oil, or use a grill brush and a saucer of olive oil. You don't need a whole lot of oil; one tablespoon or so should be good. If you don't want to use olive oil, you can use cooking spray. Make sure you just oil the cut side! Cut, remove the pit, and oil two avocados in the same manner.
Salt and pepper the cut side of the lettuce and avocados.
Once your grill is hot, place the lettuce and avocados cut-side down on the grill, over the hot side of the grill. Let them grill for about a minute. It's ok to check them as they go. You want them to develop some good grill marks, but not char completely.
If you need to keep working on the grill marks, but are finding the hot side too hot, pull them over to the cool side of the grill, keeping them cut side down. That side will be hot enough to continue creating the grill marks without the high heat burning them. Once you get the hang of this, you can quickly create the grill marks you want over the hot side. (Also, if you do overdo it, it's ok. You can discard any overly burnt pieces. However, buttermilk works wonders with smoky, charry lettuce so you may decide those are the best pieces in the end!)
Once the lettuce and avocados are grilled, chop the lettuce into one inch squares and arrange on the plates. Slice the avocados, radishes, yellow and red grape tomatoes, sweet peas, mini carrots and croutons and arrange them on the plates. Sprinkle on crumbled gorgonzola, and add a few grinds of fresh black pepper. Drizzle on the buttermilk dressing and serve.
Recipe by
WooPigFoodie
at https://www.woopigfoodie.com/crisp-grilled-salad-with-avocado-and-a-creamy-buttermilk-dressing/