Bottling Your Own Barbecue Sauce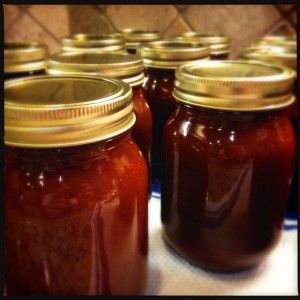 114 oz (7lb 2 oz) jug of Heinz ketchup
2 C Worcestershire sauce
3 C cider vinegar
1 T onion powder
1 T garlic powder
2 T black pepper, freshly ground
2 C white sugar AND
1 C brown sugar (you can use all brown sugar, but it will make it much darker)
10 C water
Mix all ingredients together in a large pot.
Bring to a boil and cook it for 10 minutes, then cook over medium heat for 30 minutes more.
Put the sauce through its final taste tests, adding spices as you like them. If it tastes too vinegary, you can add more sugar, or you can take the bite out of the vinegar by making a volcano… I mean, adding ⅛ teaspoon of baking soda. Stir it in, watch the foam subside, and taste again. If it is still too vinegary, add some more. (That's a serious BBQ sauce making geek trick I just taught you.)
Bottle it and sterilize it via the water bath method. You need a giant pot for this, and can get them pretty inexpensively at the big box stores. Make sure you get one with a bottle rack inside.
Fill up the pot so that the water will cover the jars by 2 inches, and get it boiling hot. I like to heat up the kettle too, so that I have extra water hot and ready, just in case I need it.
Fill clean, new, sterilized glass mason jars within ⅛ inch from the top with hot barbecue sauce and process in that boiling hot water bath for 15 minutes. Make sure the jars are covered by two inches of boiling water while they process.
Pull the jars out after 15 minutes of boiling, let them cool and listen for the pops as the jars seal, check the seals and tighten the mason jar twist lids, add a mighty nice label (or do what I do and just write on it with a magic marker), and stock them in your pantry.
Recipe by
WooPigFoodie
at https://www.woopigfoodie.com/bottling-your-own-barbecue-sauce/