Southern Shrimp Boil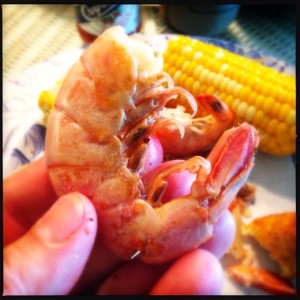 2 ½ pounds of shrimp
18 small russet potatoes
6 ears of corn
1 pound of sausage
½ cup Old Bay Seasoning
3 lemons, cut in half and seeded
1 onion, peeled and quartered
½ of a head of garlic, smashed
Get a large pot, about a foot in diameter and about 18 inches tall. If you've ever cooked lobsters, you will want to use that pot.
Add a half cup of Old Bay seasoning.
Cut 2 of your lemons in half, seed them if you like (you don't really need to because you will pour off the broth at the end), squeeze all four halves into the pot, and then drop them in. They will season the broth wonderfully.
Cut the ends off of the onion, and peel it down a layer or so to get to a layer that is not papery at all. Cut into quarters and add them to the pot. Add the thyme sprigs. You can tie them up with a bit of kitchen twine, which will make them easier to remove in the end. If you're lazy and don't tie them, you will be picking out sprigs of thyme at the end! So you've been warned.
Smash about a half a head of garlic and add them to the pot. I cut the root ends off the cloves, and then crush them. If you have a fancy tool, go ahead and use that. If you have a 50¢ water glass, even better. Add the crushed garlic to the pot.
Now it's time to add cold water. You will want to add about a half a pot of cold water. Put it on a high flame and bring to a boil. Once the broth has boiled, add your potatoes. I keep them whole. If you cut them, they tend to mush up the broth and cover the shrimp and corn with little starchy bits of potato, so keep them whole. Re-covert the pot and boil the potatoes in the broth for about 5 minutes. Then add the corn and re-cover the pot.
After another 5 minutes of boiling the above, add the shrimp, stir the pot from the bottom to make sure everything is cooking evenly, and cover the pot once again.
You want to give it only about 3 minutes of boiling, and then check the shrimp. Cook it just until the shrimp is cooked through. If you have grey shrimp to start, they should turn bright pink. Once they are done, get them out right away.
Drain the liquid into the sink. You can keep a couple cups of broth if you like. It is spicy and lemony and savory and is terrific, but most often, we eat the shrimp dry. (Or at most, dressed with a little more lemon juice and a final sprinkling of Old Bay Seasoning. That's what the last lemon is for.) Some like to dump out the drained pot onto newspaper or brown paper bags, but I'm a plate man. Even paper plates. Unless we are eating Maryland crabs, and then dumping out on paper is great.
Serve with a good Southern hot sauce, extra lemon wedges and a couple shakes of Old Bay Seasoning.